Increase Youtube Subscribers 2021 – 5 tips you need to know
These days, the competition on the social network is getting more intense than ever before. According to Alexa's top sites, YouTube generates the second most traffic of all websites in the world, following Google _the first rank with 2 billion monthly users worldwide. Therefore, to stand out on YouTube, you need to take advantage of as many promotional tactics as possible. Below we'll go into detail on each of this idea to promote your channel and increase Youtube subscribers more, let's take a look at how does the YouTube algorithm work in 2021.
YouTube algorithm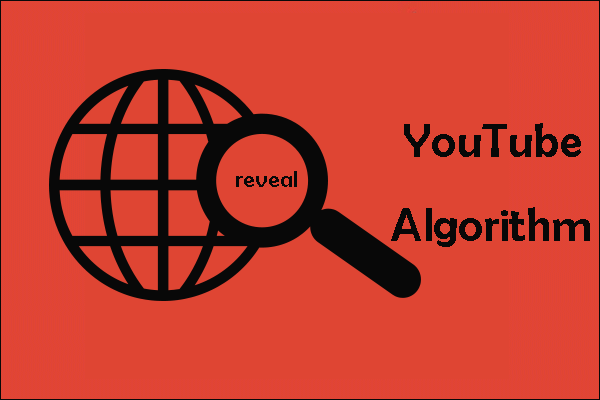 YouTube is a giant video platform developed by Google, with hundreds of hours of video uploaded each minute. It allows content creators to upload videos for archiving, sharing for the community to see, or keeping private. Since no team of people could ever keep up with watching all videos, YouTube relies on a sophisticated algorithm to match each viewer to the videos they are most likely to watch and enjoy. The algorithm looks at some criteria such as titles, thumbnails, descriptions, or how other viewers seem to be enjoyed the content by the number of comments, "likes" and "dislikes" and anything topic relevant to their past behavior. However, it is the algorithm is the theory, in real-life, how can you approach more viewers and get followed by them? Don't skip the rest of this blog to find out 5 tips to increase Youtube subscribers more effectively in 2021.
YouTube Views or Subscribers. Which one matters?
There is the misconception that getting more viewers means that you will gain more subscribers in the future. While having a massive number of likes help you to thrive in the community, subscriber plays a crucial role in your long-term success with YouTube. They are your passionate fans who are actively interested and eager to receive or engage more with your relevant. The more subscribers you have, the more influential you appear and the more appealing your channel look to new, potential subscribers.
There are also subscriber benchmarks to hit that allow you to upgrade what you can on YouTube. Your first 100 subscribers, for example, allow you to create a custom URL for your channel. Reach 1,000 subscribers and you've hit one of the requirements to be part of the YouTube Partner Program. Therefore, you can create valuable content for your audience and make money from Partnership to support your effort.
Now that we all understand the way the YouTube system work and how important the subscribers are, let's dive into how to grow your subscribers organically, so you can reap the rewards of your fanbase.
5 tips to increase YouTube subscribers simple and effective:
1.    Create the constancies content:
Consistency is the key to success on YouTube.
YouTube is a creative platform that updating every single day. To increase sustainable followers on YouTube you need to target a specific topic for example cooking, review, study, English tips, business, dance, … Whether entertaining or educating an audience, try to navigate all your videos toward a specific topic. It gives the audience a clear vision of your unique color and offers the reasons why do they need to come back for exploring more videos.
On the same issue/opinion, see them from different angles, create relevant content and ensure image and sound quality. These are the first and most important factors to help you have a good video in the eyes of users. Refining that issue, of course, the number of subs on the channel will automatically increase.
Let take a look at Gordan Ramsay cooking channel and how he entertain all food-lover audience around the world.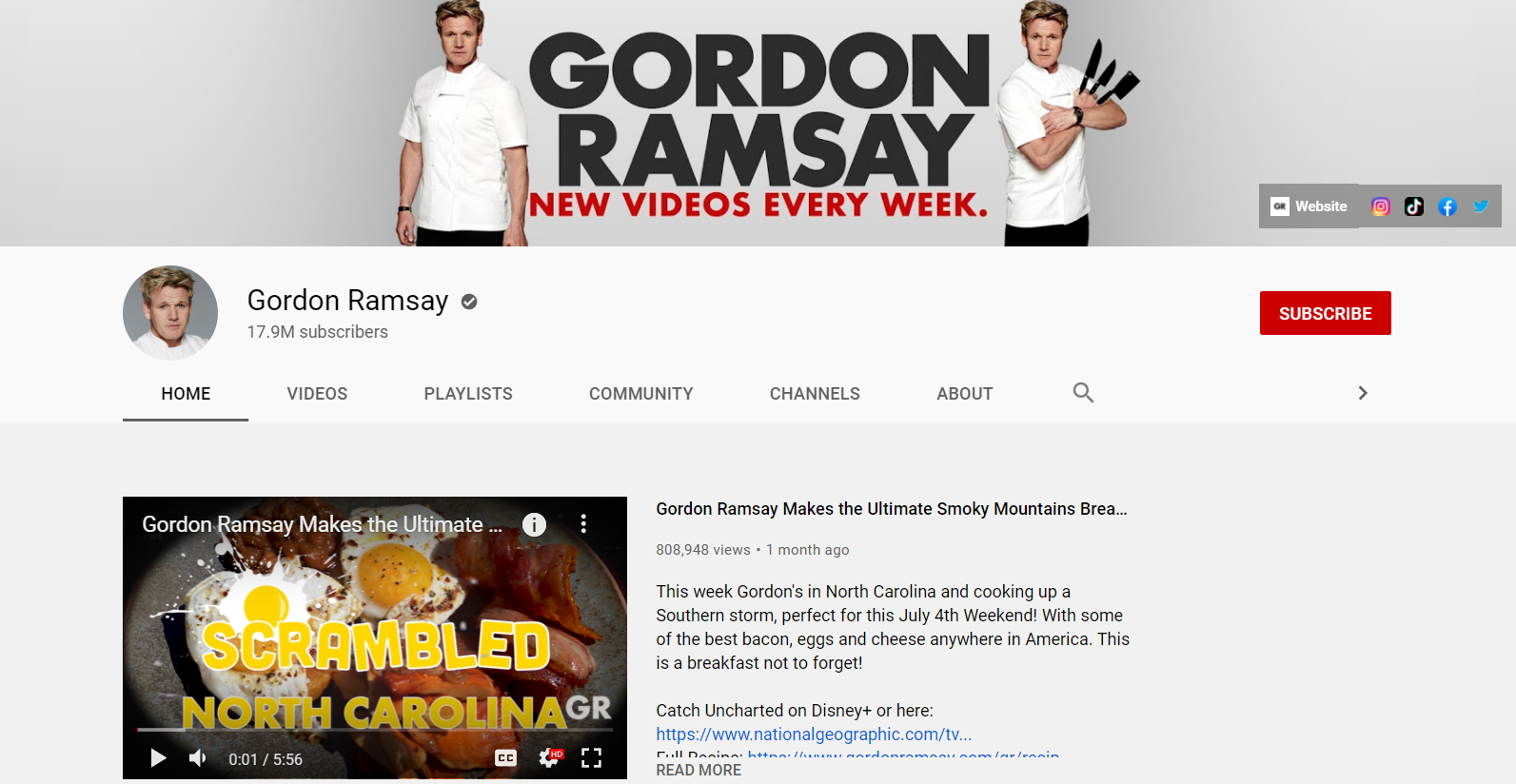 2.    Custom your thumbnail
Thumbnails are the first viewers see about your video. The first impression through thumbnails can increase the click-through rate to watch videos. Thumbnail YouTube nowadays is a mandatory element that every content creator must use to create an advantage over other relatable videos.
At that time, YouTube provides a screenshot snag from any frames in your given video and uses it as the thumbnail. Unfortunately, sometimes the image it grabs will be a blurry shot or haven't has any difference from others competitors?
Creating your thumbnails not only makes your videos look more engaging at a glance but also signals a certain sense of professionalism. You can easily make it with canva.com or any Illustrator tools as long as the primary image is relevant to your "style color" and brand. Here is the example with Jeff Su channel: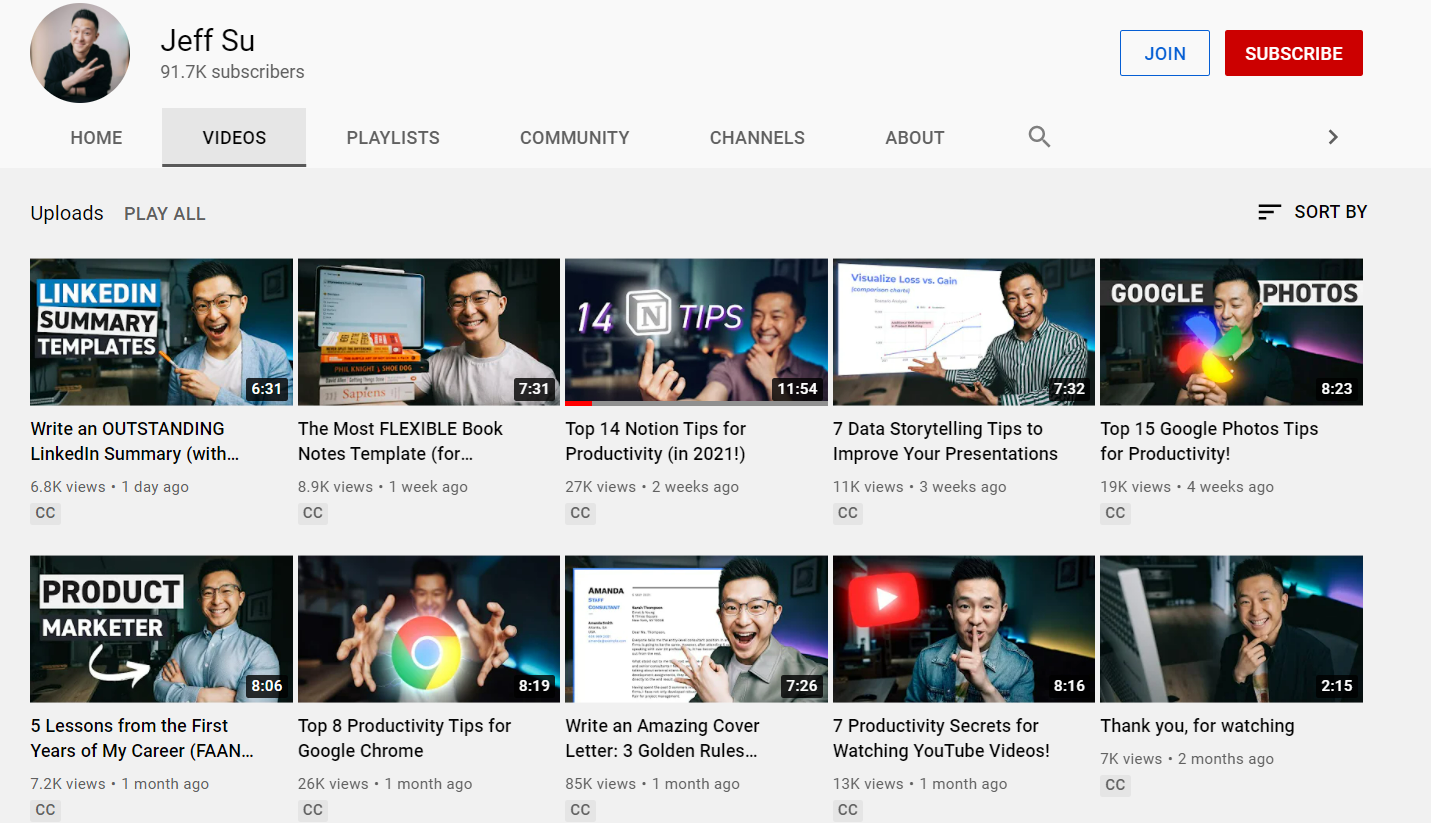 3.    Call to action in the video:
Most users tend to not pay enough attention to click Subscribe for the Youtube channel which they are watching. This is easy to understand because they usually watch many YouTube channels at the same time.
Therefore, next time don't miss golden opportunities to get more subscribers, try to remind time every time your video is uploaded. Not only do they ask people watching this video to subscribe for more content, but they also use a graphic to visually reinforce the question.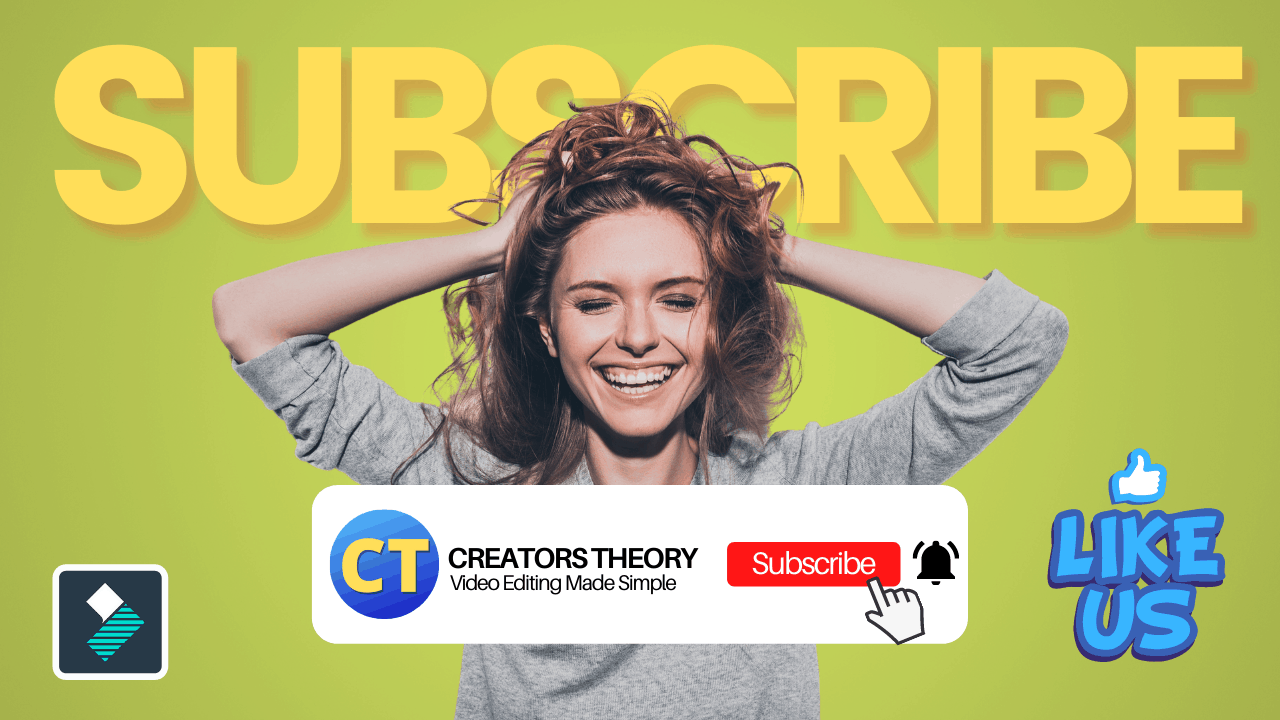 4.    Make it easy with the YouTube Subscribe button
Once, people are watching and might show some interest in your content, the final step is making it easy for them to be your subscribers.
Insert the Subscribe button into your website in a position that attracts the attention of users
In case, you haven't known how to active the Subscribe button on Youtube. Here is the following instruction.
First of all, you need to have your own Youtube channel. If you haven't already, learn about creating a Youtube channel that shows you how to do a specific action.

5.    Share channel videos on social networking sites
With the videos developed on the channel, do not forget to share the videos on social networking sites. Utilizing others platforms on social networking sites like Facebook or Twitter will attract more viewers as well as target users who show many interests in your brand before. It's a simple but effective way to increase more subs for your YouTube channel.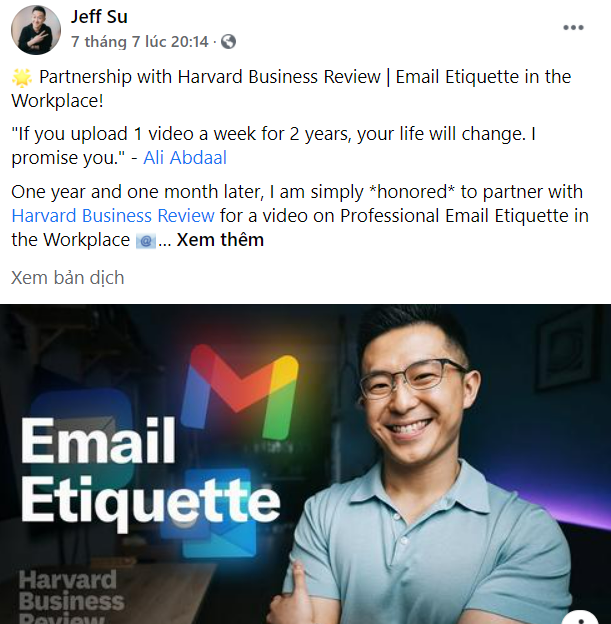 Otherwise, it's time to think about using a service to boost your fans on YouTube with more likes and subscribers to stay ahead in the race. It is one of the most beneficial options to give your channel a quick push force when it is at the initial level.
When choosing to buy YouTube subscribers, you need to pay attention to carefully consider the supplier to ensure quality reputation. Reviewing feedback from previous customers. Moreover, adjusting your financial resources for the first purchase. Then experience the right quality and financial regulation for the next time. This avoids the loss of money that the effective quality does not have.
With the above-mentioned tips, we hope you find them informative and engaging. Take a moment to learn and experiment, you will see a whole lot of differences in final results, getting close to your fans, and have more chances to increase more subscribers on your YouTube channel.